NEW AT&T Arris Wireless Triple Play Residential Gateway Router Modem with Power Supply NVG589 587234-004-00 Bonded VDSL2 Wireless Voice Gateway 10000277 AT&T, VERIZON, FRONTIER, CENTURYLINK, SONIC.NET …
NEW AT&T Arris Wireless Triple Play  Residential Gateway with Power Supply NVG589 587234-004-00
NEW with POWER ADAPTER and MOUNTING STAND.
 Not  Included:

 

networking cables, manual,  software, etc.
The NVG589 is a  gateway with optional supported Integrated Battery Back-Up(not included in this  offer) that allows you to maintain a working phone in case of a power outage.  Includes power supply.

 

If your internet service provider

 

(ISP)

 

 

does not have a VDSL or VDSL2 deployment then this  modem will not work for you. Please contact your ISP to confirm compatibility  of this modem prior to purchase.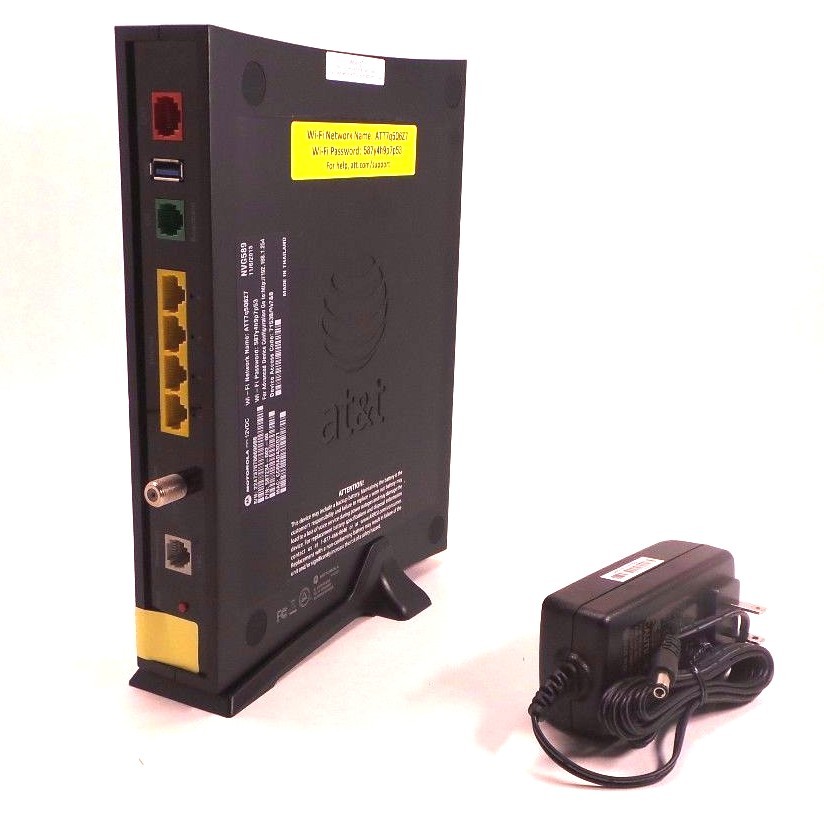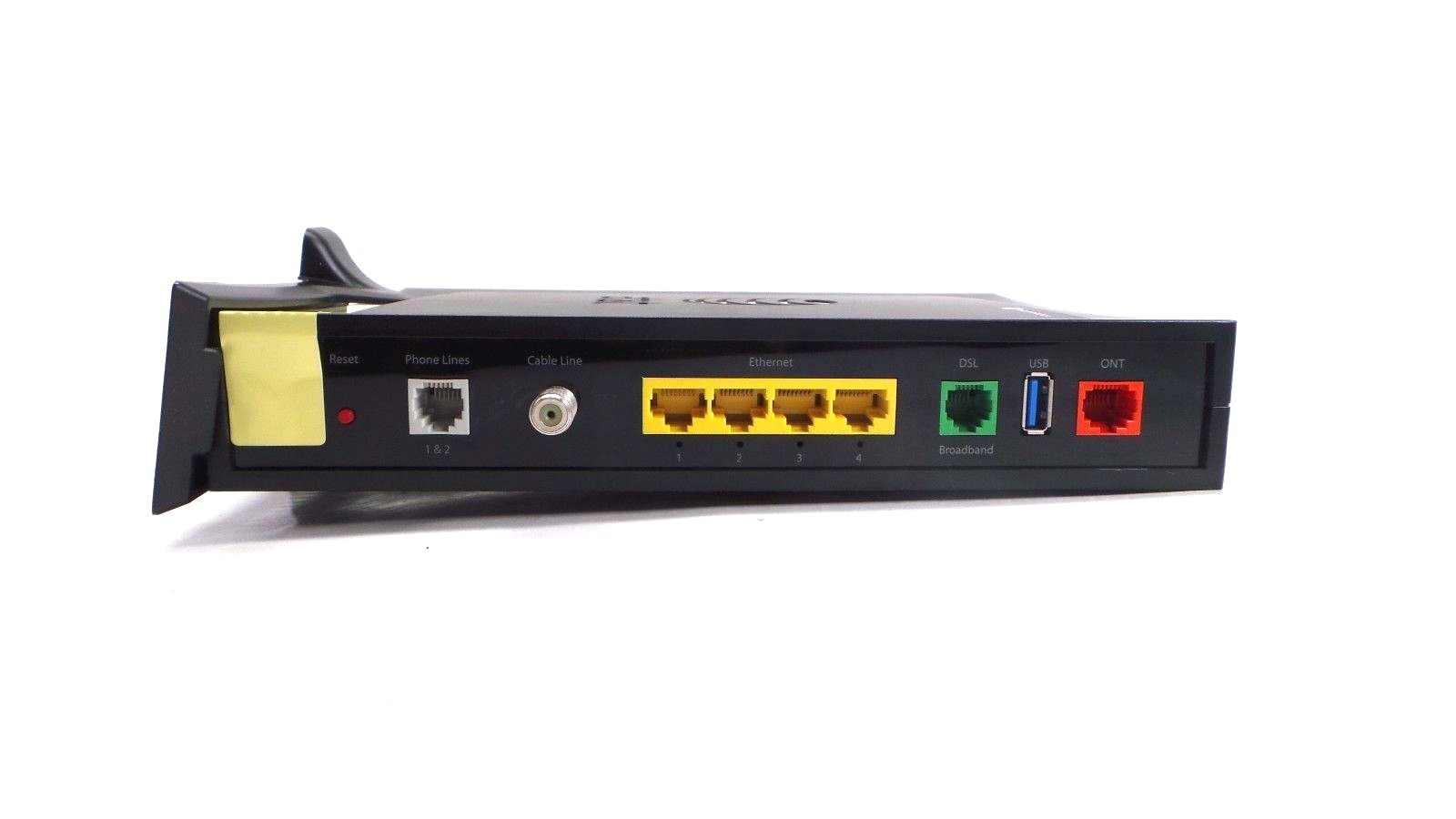 Specifications:
DImensions:
10 in H x 7.25 in L  x 1.63 in W

 

(25.4 cm H x 18.4 cm L x 4.1 cm W)

 


1.28 lbs 

 

(.58 kg)

 

(without integrated battery)

 


1.77  lbs

 

(.80 kg)

 

(with integrated battery)
Communication Interfaces:
4-port  10/100/1000Base-T Ethernet switch for LAN Connections, FXS port for VoIP  connections, HomePNA 3.1 coax port,  USB 2.0 network port, 400 mW wireless  radio for Wi-Fi connections
WAN Interfaces:
Bonded  VDSL2/ single line

 


VDSL2/ bonded

 


ADSL2+/ single line ADSL, RJ-14

 


  One-port 10/ 100/1000 Ethernet, RJ-45
Power  Supply:
115 VAC 36 W/12 VDC@3 A

 

(2 phone, 5REN, RINGING)
Routing:
IPv4 , IPv6/6rd; DHCP ser ver/relay;  DNS Proxy, Dynamic DNS Support; Multiple subnet support
WAN  Support:
PPPoA, DHCP, static IP address; ADSL, ADSL2/2+, ADSL2 Reach  Extended protocol

 

(ITU G.992.3  annex L)
Optional Battery Back Up:
Replaceable,  lithium-ion, single-piece construction, four- cell
Security:
Stateful Packet Inspection Firewall;  Virtual DMZ/IP pass-through; Denial of Ser vice

 

(DoS)  protection;  VPN Pass-through

 

(PPTP, L2TP, IPSec)
Wi-Fi Security:
WEP

 

(64-bit, 128-bit,  256-bit)

 

encr yption 802.1x, WPA, WPA-PSK, 802.11i/WPA2, WPA2-PSK   EAP-TLS, EAP-TTLS, EAP-SIM MAC Address filtering
VDSL2 Deployments:
AT&T has deployed Alcatel-Lucent VDSL2  equiptment

 

(video ready access devices)

 

 

in street cabinets as part of its U-verse service in  fiber to the node

 

(FGTTN)

 

 

based service. U-Verse was originally  used
CenturyLink-  formerly Qwest, Embarq, and CenturyTel — is currently expanding its VDSL2  network. It currently offers the technology in the Denver, Fort Collins,  Colorado Springs, Omaha, Phoenix, Fla
BellSouth had planned to roll out VDSL2 to its customers  prior to its acquisition by AT&T. Many of those markets have since been  included in the U-verse rollout.
Sonic.net is in the process of upgrading some customers  in San Francisco to VDSL2
Frontier Communications currently offers VDSL2 service in a number of  areas it services. In some locations, VDSL2 service is available only to  business subscribers, and customers might be required  to
VDSL Deployments:
Verizon offers its FIOS service in some  metropolitan areas at a speed of up to 300 Mbit/s. The Verizon sevice is based  on FTTP and normally CAT5e Ethernet
 

(or MoCA)

 

 

is used to deliver data service  thr
CenturyLink provides internet access over FTTN VDSL in Denver,  Colorado; Salt Lake City, Utah; Boise, Idaho; Phoenix, Arizona; Seattle,  Washington; Omaha, Nebraska; Minneapolis; Des Moines, Iowa;  Faye
LocalTel  Communications of Wentachee, WA offers a single VDSL line to an apartment  complex next to their Network Operations Center. Offering 100 Mbit/s down and  100 Mbit/s up.
AT&T provides internet access and television service over VDSL in  several regions under the trade-name U-Verse. The AT&T service is based on  FTTN; FTTP is also used.
Frontier Communcations now offers Bonded ASDL and VDSL service with  speeds of up to 40 Mbit/s downstream and 10 Mbit/s upstream in all of its major  service areas like Fort Wayne, IN, Rochester, NY, Ne
Related Links:
NVG589 Data Sheet
Model Number:  NVG589

 

Part Number: 587234-004-00